Win More Sales Program for B2B Inside Sales
This two-day boot camp will teach the key skills needed to schedule meetings and to sell B2B products and services.
Who should attend? Attendees should currently have an inside sales and business development job that requires cold calling, scheduling meetings and closing sales remotely.
Did you know a recent study found that only 17% of all current salespeople have the skills needed to effectively sell B2B solutions. Today's buyers have a lot of information available to them and this access to information has changed their requirements of salespeople. Buyers want your help navigating the research process and they will buy from the teams that do the best job of educating them. Buyers don't want lengthy product pitches but they do want help in solving their challenges.
What you will learn: Utilizing the core elements of our Teach, Learn, Ask sales strategy, attendees will learn how to engage prospects and to earn the next action in the sales process.
Buyers expect you to know their business which is why we lead with the Teach step in the process. Rather than peppering them with discovery questions, we need to teach them why we can help, what trends have we spotted, and how can we improve their chances of reaching strategic goals.

Next we can Learn if they see the world the way we see it. After giving them some valuable insights, use cases and relevant customer examples of success, we can get their guidance if they want to achieve the outcomes we have delivered to similar customers.

Now we can make an Ask of them since we have confirmed that spending more time is worthwhile. Can they get their tech team involved, can we present to IT Security, will they see value in a demonstration or proof of concept? Do they agree that continuing the conversation is a worthwhile use of their time?
Agenda- From previous sessions- 2019
Day 1: Reviewing the skills you need to succeed in Inside Sales and Business Development roles: Prospecting, Cold-Calling, Email writing, Converting leads, Converting freemium customers to paid licenses, CRM usage, Activity tracking, follow-up work, forecasting and objection handling.
Training content on the following topics
Why do customers agree to take meetings? Understanding the buyer's perspective and why traditional product pitches do not resonate with your prospects.

How can you qualify a prospect faster and save time to work on the prospects that can convert into customers?

Outreach- What makes an effective email? Cold Call best practices. Managing gatekeepers. Voicemail strategies.

The importance of the first 10 seconds of your calls to establish credibility and relevance

Why the agenda is the most important part of any meeting invitation

What is Project Based Selling? Why do we need to understand their buying process?

Why talking about your product too soon will turn off your buyer and why focusing on outcomes provides a much better way to engage prospects

How to develop "Internal Sellers" of your idea
Format of the Boot Camp- Each session will include a whiteboard discussion of key topics followed by worksheets and hands on Practice Sessions to develop your sales pitch- Cold Calls, First meeting pitches and role plays with immediate feedback using a "flash feedback" method that gives each participant immediate feedback and the opportunity to improve their response.
Developing the basics of your answer to "Why choose us? and What will you learn if you take a meeting?"
Day 2: Understanding the buyer's perspective- Learning about your own sales style and why it resonates with some buyers but not with all. Learning how to sell to all buyers types and to gain endorsement of yourself and your ideas.
Learning what makes an "A" Player in sales: Reviewing the most productive profiles of successful salespeople and studying how your profile compares.
Improve at asking the hard questions

Understand why every sales action must Teach the buyers something (Teach, Learn, Ask)

Learn the single best qualifying question that will soften even the toughest buyers

Learn when to walk away from an opportunity (Fire a customer)

Learn what marketing content to use at each stage of your sales journey
Sales Strength Assessment- This is a very unique element of our program that increases the self-awareness of each attendee and how their behaviors, tone of voice and confidence levels impact the perception of your prospects. Learn how the buyers perceive you and your dominant behaviors. Understanding your blind spots and why you struggle to connect with certain types of buyers. Learn strategies for how to connect with all buyer types.
By leveraging an assessment technology that has captured behaviors, motivators and emotional intelligence profiles from 30M professionals, This TTI based analysis gives you a great self-awareness that helps identify your strengths and your blind spots.
—Why do I get along great with some buyers but always struggle to develop rapport with others?
—Why do I hate to file expense reports?
—Do I tolk too much?
—Why isn't this buyer responding to me?
Each attendee will receive a personalized Sales Strength Assessment. This assessment includes a detailed description of your sales style and will include:
Guidance on how buyers perceive you from your tone of voice, word choice, communication style and non-verbal communication

What motivates you and how you can utilize your top 4 driving forces to maximize your performance

Get a rating of 25 different skills rate and tips for how to improve your skills

A detailed 50+ page summary report that can be used as a coaching report for you

A communications audit- Personalized review of your emails, cold call delivery and voicemails.
Pre-Work- Attendees will have pre-work to complete before attending the seminar. Each attendee will send a sample email to The Virtual CRO and they will leave a sample voicemail message. Additionally, they will complete a 1-page summary of the value proposition for your current company's products.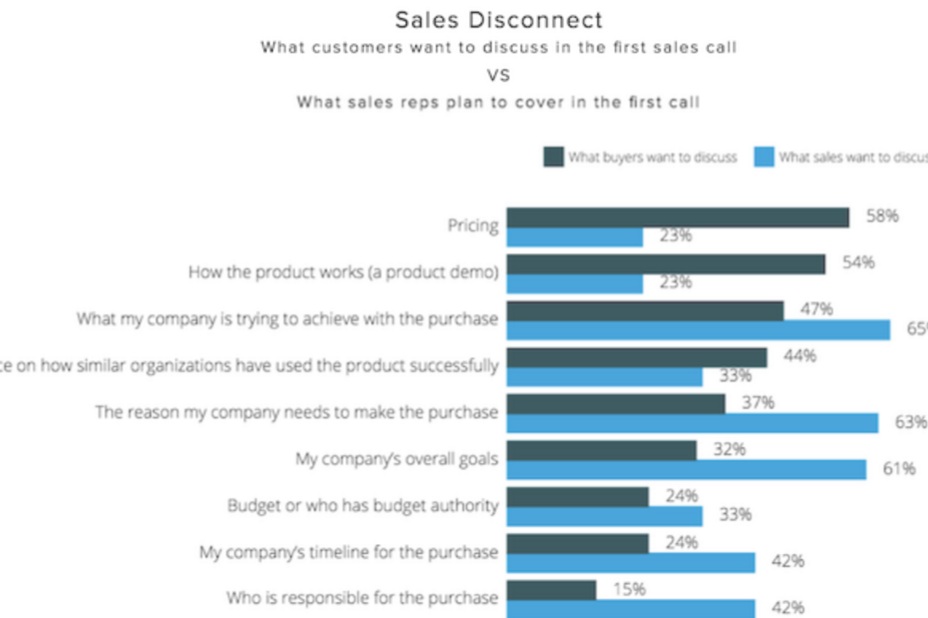 The data shows clearly that sales and buyers are not on the same page with what they want to talk about it. Courtesy of Hubspot, these datapoints show that salespeople continue to lead with the wrong information. We can fix that.
Qualifications and Background information on the Win More Sales Program and the Inside Sales Boot Camp-
This program represents a culmination of over 750 hours of training delivered to sales teams in B2B fields that include Network Performance Monitoring, Machine Learning technologies, Telecommunications, Project Management Software, IT Security and compliance services, Mobile Messaging platforms, and healthcare billing technologies. For additional items please see our list of clients and an extensive list of references.